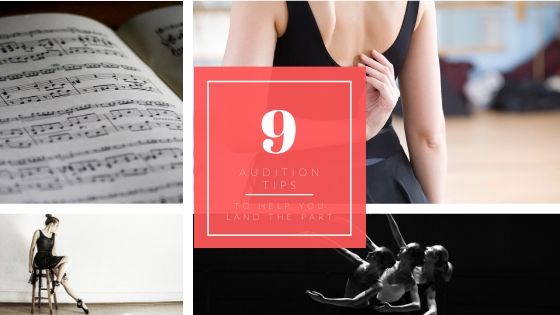 19 May

Preparing for your Musical Theatre Audition

From professional contracts to your high school musical, these tips will help you thrive in your audition and land that part!

Song Selection: When choosing the perfect audition song, it is important that you consider a couple of things. What has the briefing asked of me? In many auditions it is common that the panel may ask that your song be from a specific era, be a specific style and most commonly a specific length. It is particularly important that you adhere to these requirements. When a brief does not have these outlines, a diligent performer will research the show to ensure song selection is appropriate for the audition. Consider the show you are auditioning for. Is the show golden age or contemporary? Is the show a drama or a comedy? These are all important questions to ask yourself before choosing an audition song. It is also critical to pick a song that suits you. You should take into consideration your age, vocal type and casting type. Choosing a song that is right for you will feel right in your voice and in your body. If you can't relate to the song you are singing, the panel won't be able to make the connection between you and the character.

Dance Calls: At dance auditions, especially large cattle calls, it will be beneficial if you stand out. Stand in the front and make eye contact with the choreographer. Don't be afraid to ask questions. Asking questions shows the choreographer and the panel that you are dedicated and committed to doing the best you can in this audition. Most importantly, show them your kindness and personality. Show them that you are someone the team want to work with.

What should I wear? At auditions you should always dress in something that you can move in. With that in consideration, dress according to the tone of the show you're auditioning for. Auditioning for Chicago? Maybe try wearing something black with a bold red lipstick. Auditioning for Hairspray? Try a bright coloured dress. Dress for the role you're auditioning for, not as the role.

Tips for Audition Day:
– The night before your audition practise some self care. Have a nice dinner, an early sleep and perhaps some meditation to calm your mind before the big day
– Be prepared. Bring your CV with you as well as any other documents you might need.
– Always be nice to everyone! You never know who around you will have a say in casting. Also, being friendly and cooperative shows how easy you are to work with.
– Leave everything on the stage. You only have one shot to show them what you've got so give them everything.
– Try wearing the same thing or the same colour to your dance and singing call. This makes it easier for the panel to remember you especially when calls are on different days.
– Have fun! Whether you get the role or not this is what you love to do. Treat it as a little performance and enjoy the process as much as you can.

Good Luck!