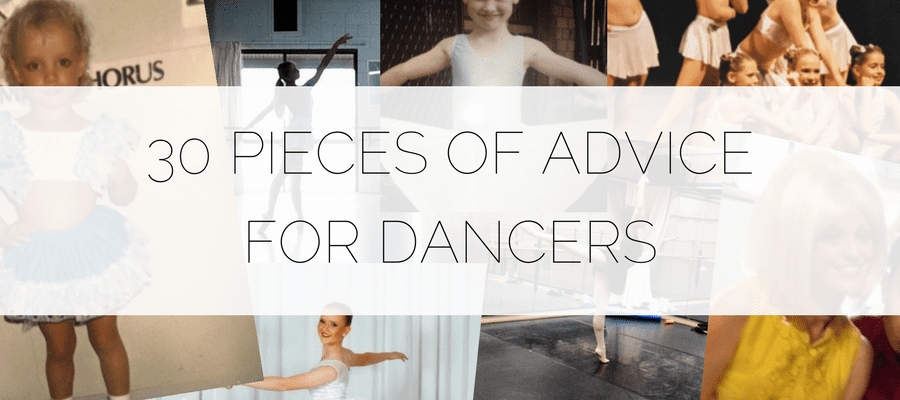 01 Mar

30 PIECES OF ADVICE FOR YOUNG DANCERS

Dance is more than a sport, it's more than an after school activity and more than an art form. For many young dancers, it becomes their lifestyle. It effects who they are as a person, their hopes and dreams for the future and the way they see the world around them. Here's 30 pieces of advice we have for young dancers:
Don't skip ballet, even if it's not your favourite
Go to all your classes, you'll feel good once you're there
Dance is a good break from study
But don't use it as an excuse to not focus on school
Dance is an expensive and time consuming activity! Be thankful for your parents
Learn to accept compliments
And how to take criticism
Competition and eisteddfods are stage experience, learn from them!
Always put in 110% effort into your appearance for performances INCLUDING LASHES AND RED LIPSTICK! It's good training for future jobs!
You can still be seen from the back line
All teachers have favourites, use it as inspiration to work harder
Attitude is more important than talent
Stick up for yourself, it's a tough industry!
Be confident, be positive but don't be SNOBBY
Dance is a team sport, support each other
Try all styles of dance, even if you don't think it's for you 
First impressions count, they may not seem important now but they could be your future employer
Early is on time, on time is late and late is unacceptable!
Warm yourself up before classes, teachers won't always do it for you
Do as many workshops and classes with different choreographers as possible
Sometimes you won't get the part, there's more to a role than talent
Point your toes, stretch your legs & stand up tall
Teachers time is valuable, don't waste it being unprepared
Be prepared for auditions. Take EVERY shoe and EVERY outfit
Dance friends are friends for life, cherish the relationship
Don't be afraid to step out of your comfort zone, especially for a career opportunity
Wear deodorant, and top up throughout class
If you fall over on stage, get back up
BUY THE DVD AND THE PHOTOS, they will make great girls nights in the future
The time you spend in dance class will be some of the best of your life, cherish every moment and never forget the memories.